How to Update the Scan Engine
To update an Appliance navigate to Settings > Appliances. Each displayed row corresponds to an Appliance installed within the tenant estate. The version column details the version of the Appliance. The appliance has a number of internal services that also have their own individual version numbers. The overall version of the appliance is derived from the image that was initially downloaded to install the appliance.

If updates are available for the internal services in an Appliance, a warning icon is displayed to the left of the appliance name.

If an Appliance has updates available, the appliance is "ENABLED" and it's "Connection status" is "UP" then an "Update" option will be present in the ellipsis menu on the left of the row.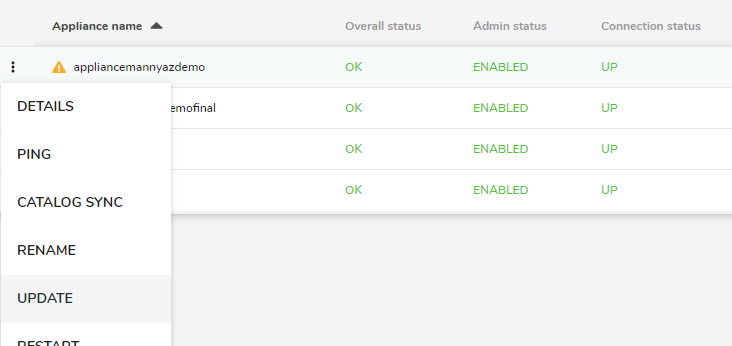 Before the update is attempted the scan jobs associated with the appliance are reviewed to ensure none are active. Click on the Update option. The list of available services within the appliance will be displayed. The items that have available updates will be listed with an warning icon
.
Select an highlighted
service and either click on 'Update to latest' or select an explicit version from the pull-down list and click on Update (this is also the means to select a downgrade to a specific version is this is required).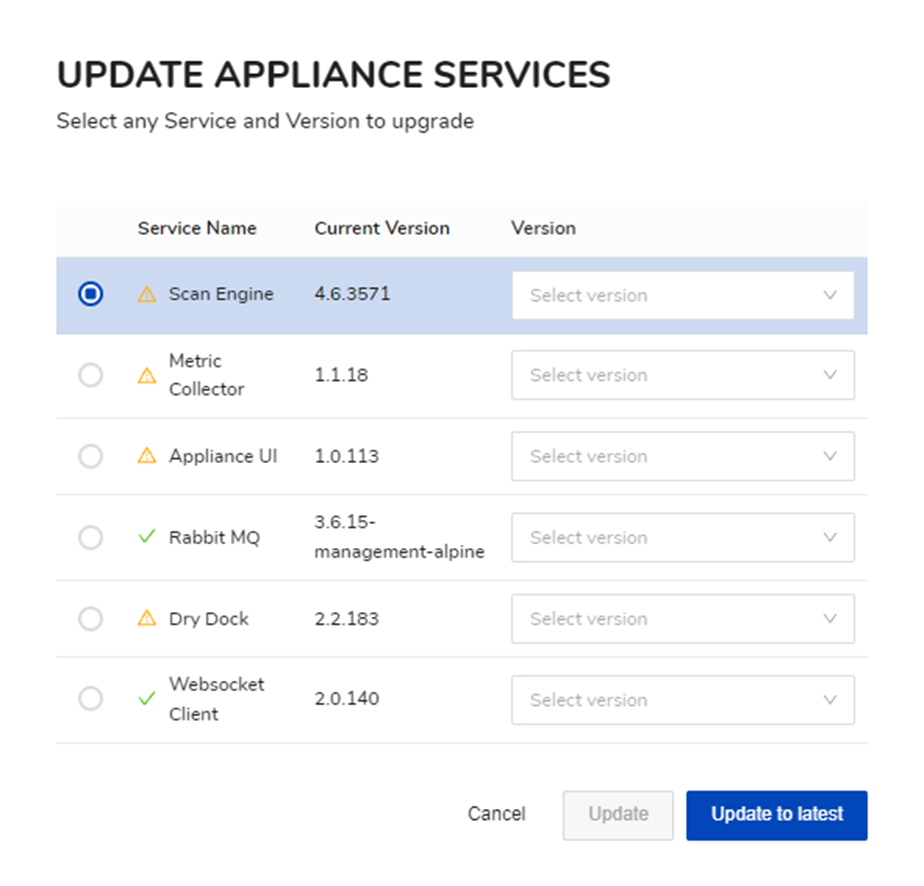 After the "Update" has been selected, the Appliance will go into a "MAINTENANCE" state in order to perform the update. After the update has been completed, the appliance will return to the Active state and the appliance will be available for use again. The other services can then be updated in sequence using the same process.
Failed Update Attempts
If an issue occurred during the update the Scan Engine will be restored to its previous version but will be "DISABLED". It must be "ENABLED" again via the ellipsis menu before it can be used/updated again.
"DISABLED" appliances are not displayed by default, check the "Show Disabled appliances" checkbox to make it visible.