The following instructions will show how to create an CloudSphere Virtual Appliance on a Hyper-V server using Hyper-V manager. Please contact the CloudSphere support team if you require assistance with any alternative deployment methods.
Appliance Download
You are able to download the Hyper-V virtual appliance image through the CloudSphere console under the help menu (Help → Download Virtual Appliance). Alternatively, contact the CloudSphere support team.
Once you have downloaded the zip file containing the virtual appliance image you need to save it to a location accessible by your Hyper-V manager. Unzip the file to create the files required by Hyper-V.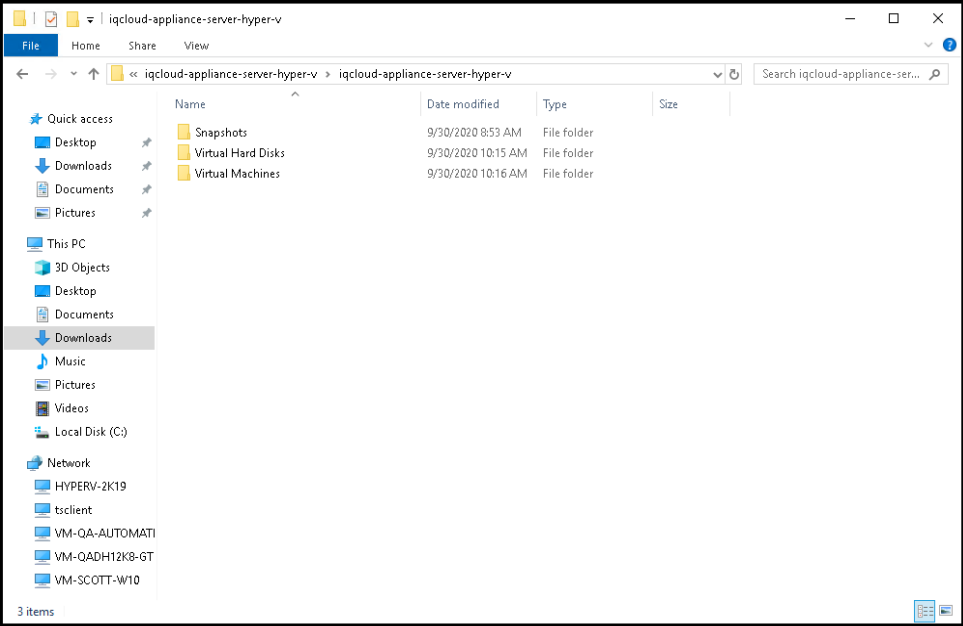 Appliance Install
To install the virtual appliance you will need to use the Hyper-V manager on the server to which you will deploy the appliance.
Open the Hyper-V manager.

On the right panel, select "Import Virtual Machine.
Click on Next button.

Browse to the files saved in the Appliance Download steps and click "Next".
Select the folder containing "Virtual Hard Disks" and "Virtual Machines".

Verify the ".ova" template details that you are about to deploy and select "Next".

Select the import type but make sure to use the last one ("Copy the virtual machine") and select "Next".

Select a folder where to store the Virtual Hard Disks.Make sure the folder is not used by a previous install.

Review and verify the deployment settings and click "Finish".

When the appliance is successfully created, it will be displayed in the list of virtual machines deployed on the Hyper-V server in the Hyper-V manager.
In the deployed virtual machines list, right-click on the appliance server and select "Start" the power on the appliance.

You are now ready to configure your Virtual Appliance.

You are now ready to configure your Virtual Appliance. Please proceed to

Configure the Virtual Appliance.